Welcome to the Official Website of
the Greater Pittston Historical Society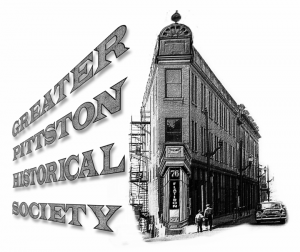 Our mission is to discover, collect, study, organize, preserve and display the history of Greater Pittston and to make that history available to the general public, public schools, researchers and historians. We support this mission by engaging in a variety of public educational programs; by organizing, maintaining and displaying artifact collections; by promoting the preservation of historic buildings and sites and by partnering with local and regional institutions to help us reach our goal of preserving the history of Greater Pittston for future generations.
Our goals at GPHS are multiple: we hope to create a database containing a plethora of information about the history of Greater Pittston by gathering pictures and stories through several networks such as social media, public displays, presentations, and interviews and enrolling help from local libraries, schools, churches, businesses, and social groups.  We'd like to provide a place to store all the collected information, then make that information available for schools, libraries, as an internet resource, or to sponsor public displays and presentations.
Please check back often as the site will be updated frequently. Thank you for your interest!
PLEASE NOTE – Our monthly meetings have changed. Please send an email to check if there is a meeting on the  2nd Weds at 7pm and where it will be held

. 
***********    FOR SALE : ****************
$20.00 each – if interested please send an email to GreaterPittstonHistory@gmail.com

**** INCLUDE the item(s) you are interested in and  CONTACT INFORMATION   
Collector License Plate celebrating the 250th year
since the discovery of coal. (click image for larger picture)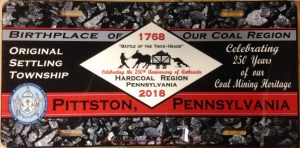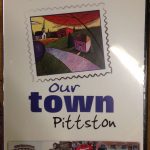 WVIA "Our Town" Pittston episode on DVD. A nice gift showcasing our local area and it's rich history!
*************************************************************************
CURRENT OFFICERS:
President :   Ron Faraday
Vice President : Julio Caprari
Treasurer: Jim McFarland
Secretary: Sharleen Palaima
Vice President of Membership & Fundraising: Kristina McHale